Theater Program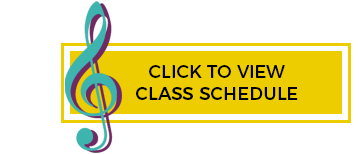 Our Outstanding Children and Youth Musical Theater Productions are What Set us Apart from the Rest!
When it comes to youth theater, our philosophy is simple: Education comes before, during, and after a performance. The lessons learned by being involved in a theater production reach far beyond the stage:
• Students learn compassion, empathy, responsibility, teamwork and leadership skills.
• They learn how to take direction and give direction in a positive and constructive manner.
• Theater strengthens trouble-shooting and problem-solving skills.
• Theater teaches kids how to be valuable, effective, and kind members of a community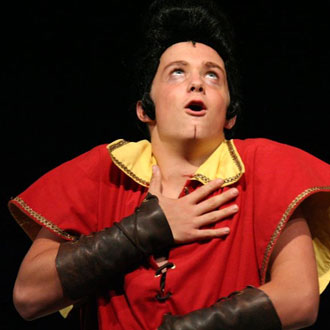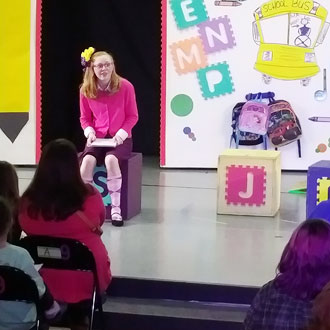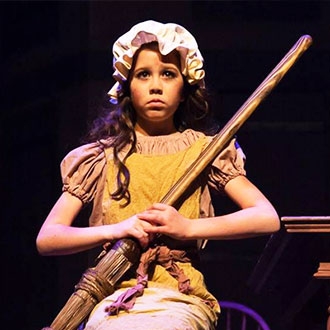 CLASS DESCRIPTIONS
Musical Theater Repertoire & Foundations of Music
NEW FOR 2020-2021
A deep-dive music foundations class which will be extremely beneficial to older students who are thinking about pursuing musical theater in college or those who would like to make themselves more competitive in the casting world. Topics will include putting together an audition-book, how to interpret and perform a song, audition techniques, where to find sheet music and how to select appropriate material, and basic music theory.
Triple Threats Musical Theater Program
AGES 6-18
Do you ever wonder what it's like to be in a Broadway show? Let us show you by enrolling in Triple Threats Musical Theater! A combination of movement, acting and singing, this class includes learning and exploring acting scenes, songs, and dance combinations from your favorite Broadway Shows! Students are also introduced to the world of technical theater through discussions about set design, costuming, lighting, stage make-up and much more! Students enrolled in the Triple Threats program will have the opportunity to perform in a full-out stage production.
Some of our favorite past productions include:
BEAUTY AND THE BEAST JR. JUNIIE B. JONES THE MUSICAL, THE LION KING JR., ANNIE, THE MUSIC MAN, ONCE ON THIS ISLAND, SHREK THE MUSICAL, THE LITTLE MERMAID, WIZARD OF OZ, INTO THE WOODS, ALADDIN and many more.
Classes are divided into 3 age divisions, but everyone works together to create a wonderful theater experience!
Triple Threats Prep: AGES 5-7
Junior Triple Threats: AGES 8-10
Senior Triple Threats: AGES 11-18
Our Covid Health and Safety Protocol for Triple Threats
All students and faculty will be required to wear a face covering

Class sizes are limited based on the allowed capacity per each teaching studio.

All students will be socially distanced throughout the class.

For the initial starting weeks we will focus on acting, character development, improvisation, and staging. For the music (vocal) component we will work on learning to read music & rhythms, song interpretation, and musical singing styles. Songs to be studied will be introduced in class and students will be given copies of the sheet music so that they can work on the material at home. Only after Covid restrictions have been lessened will we begin live singing during class.

Temperature checks and health screenings will be done before students enter the classroom.

The classroom environment and all materials used in class meetings will be thoroughly cleaned and sanitized before and after use.
Spring 2021 Triple Threats Performance
Of course we want to "do a show" this spring but we have to be realistic and patient. We will plan as if we are going to be able to perform a full-fledged musical production, but if we are not allowed to add in the live singing we will modify the performance to be a "dansi-cal" which is a musical with dancing and acting to pre-recorded music. The characters will be created and developed, we will attack the conflict and resolution of the story, costumes and make-up will be applied, and most importantly, we will harness our imaginations and come up with our own unique way of storytelling! They say "boundaries can be freeing" so now is a great time to put that old adage to the test! As soon as class registration has been solidified we will determine our show and move forward in the production process.
Junior Theatre Festival Travel Team:
DUE TO COVID-19 our JTF team will not be attending the 2021 festival in Atlanta. We look forward to attending JTF in the future!
AGES 7-18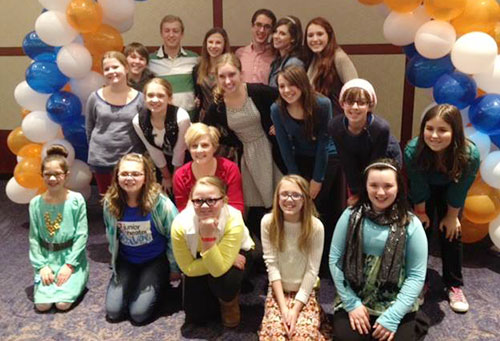 This select performing company provides talented young men and young ladies between the ages of 7-18 the opportunity to work together in a "team" environment as they challenge themselves in the three critical components of musical theater: voice, dance and acting.
Company members will study and perform all styles of musical theater on a more advanced and in-depth level. They will perform repertoire from current and classic Broadway shows, learn a bit of musical theater history and study the careers and styles of legendary Broadway directors and choreographers such as Michael Kidd, Jerome Robbins, Stephen Schwartz, and Bob Fosse.
Members of the JTF Team will travel to Atlanta in January of 2020 to participate in the Junior Musical Theater Festival (JTF) sponsored by iTheatrics, Music Theater International, and Disney Musicals. The group will also perform at local and regional events and will be encouraged to attend master classes and conventions. Members are required to purchase a performance costume; his/her own footwear, tights (ladies), and a MW jacket. Regular attendance is mandatory and too many missed classes will result in the student being asked to withdraw from the group.