Twinkle Babies Dance™ - Ages 2-3

A thirty minute introductory dance class containing ballet, tap and creative movement. Young dancers will learn the basic steps while learning how to follow direction and imitate movement in a positive environment. Engaging music is used to get these little guys inspired to dance. The use of props such as Twinkle bears and hula hoops, enables the young dancers to use their imagination, creativity and, most of all, have fun!

Twinkle Stars Dance™ - Ages 3-4, 4-5 & Kinders

An age specific 45 minute class containing ballet, tap and jazz/creative movement. The purpose of the class is to introduce young dancers to the three styles of dance and inspire movement and creativity within a positive environment. Dancers will also learn basic steps and terminology in all three styles. For example, all dancers will learn what a "plie" is and how to demonstrate one. The use of fun, age appropriate music engages the young dancers' minds and bodies. The use of props such as hula hoops for the "freeze dance" makes the end of class the most fun! Placement Notes: Twinkle Stars Dance™ 3-4 students must be at least 3 1/2 years old.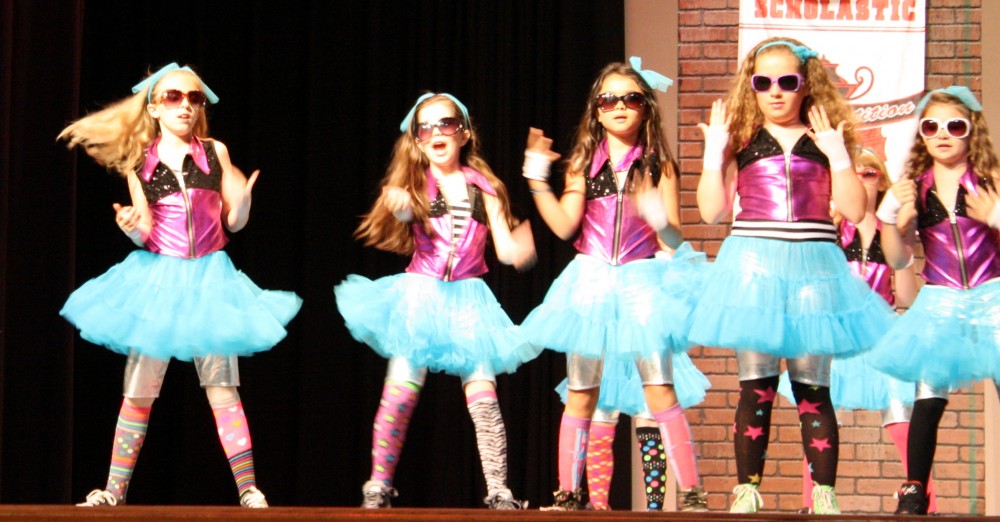 Youth Dance Classes: (Age 7+)

This beginning to intermediate level dance program is where dancers will begin to learn more control and technique for dance. ShowSTARS Dance classes are offered in Tap, Jazz, Ballet, Lyrical, and Hip Hop.

Classical Ballet

Ballet is the foundation of all dance forms. Each weekly ballet class will focus on exercises to build, strengthen, and train the muscles for ballet dance. Class work is done at the barre and in the center. Weekly class will also include combinations that take you across the floor, making this class fun and challenging. Our progressive syllabus promotes proper technique, placement, turn-out, flexibility, musicality, and performance.

Ballet I (Grades K-1/Mini Level)

Budding ballerinas are introduced to ballet barre and center floorwork. Strength, flexibility, and agility are goals in this class. One to two years is spent at this level as the syllabus grows to include basic barre work, body directions, small and large jumps, preparation for pirouettes and a better understanding of musicality.

Ballet II

One to two years is spent at this level, stressing turn out, extension and jumps adding more center floor work and beginning pointe. Coordination of head and arms continue as does ballet history and musicality. A student's stretch, strength and grace at this level begins to develop.

Ballet III-V (Grades 7-12/Senior Level)

Includes more difficult barre and floor combinations including beats, pirouettes, petit and grand allegro and advanced progressions. Dancers are expected to perform more technically and emotionally proficient as they progress through the levels. Ballet en pointe may be recommended based on the student's strength and ability.

Ballet en Pointe

For intermediate to advanced dancers, 11 years or older. Dancers perform in pointe shoes while learning ballet combinations and proper pointe technique. They will also learn variations from the classics and other famous ballets. Enrollment in ballet en pointe is by invitation or audition only.

Lyrical Dance

Lyrical dance is a combination of the beauty of ballet with the expressive abilities of modern and jazz. Generally, lyrical is done to more contemporary music. It is designed for intermediate and above dancers who have experience in both dance forms. Strong and passionate; lyrical helps connect the dancers to true feelings while dancing. Three years of prior ballet training required. Students without the three years ballet training will need to enroll in a ballet technique class in order to enroll in lyrical.

Jazz & Hip Hop

Jazz technique coordinates with the ballet program promoting grace, flexibility of movement, coordination of heads, arms, jumps and turns. Classic jazz movements including isolations, stretching, turns, leaps, patterns and combinations are taught at each level appropriate to age and skill. Contemporary music is used and an evolving sense of rhythm and body awareness is illustrated through modern across the floor and dance combinations. Hip Hop movements are high energy and full of swag! Only age appropriate movements, music and costuming will be permitted.

Tap (Grades Preschool II-Adults)

A true American art form and an absolute "must" for those students with musical theater aspirations! Tap is the fusion of percussion, dance, rhythm, and speed. Basically, tap is like making music with your feet! Tap focuses on timing and rhythm, balance and coordination. Beginning through advanced tap technique in several styles including hoofing and classical rhythm tapping. Dancers are taught the use of heads, arms, kicks, and turns to enhance tap rhythms and styles at each level appropriate to age and skill.

Musical Theater Jazz

Nail that next audition; be confident with your dancing! This class gives you the technique and skills you will need to help land that leading role. This is not your typical dance class! Students will spend time exploring character development and emotions through jazz and social dancing, and how it relates to character development. Perfect training for older beginning dancers or even experienced dancers who want to be more confident and compelling onstage!