Competition Companies
For a complete handout about our Dance Competitions, Competition Philosophy, and Competition Season please click on the link below:
/usercontent/file/2017-2018%20DANCE%20COMPETITION%20TEAMS.pdf

DANCE COMPETITION TEAM
The Competition Team offers the serious dancer more intense training and performance opportunities. Members of the Teen and Junior Competition Teams take class 2 days a week and are encouraged to train in ballet, tap, jazz & musical theater.

The Competition Teams will participate in 2-3 dance/talent competitions in the spring in addition to local parades, the Holiday Showcase and the annual June recital. Competition Team dancers also have opportunities to perform in the community, take class from master teachers, & travel to dance conventions throughout the year.

Mini Tap/Jazz Pre-Competition Team: Ages 6-7 Petite Tap-Jazz Team: Ages 8-9

Junior Tap/Jazz Team: Ages 10-12 Senior Tap & Senior Lyrical Teams: Ages 14-18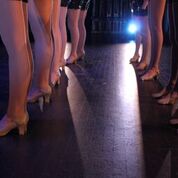 TEAM PLACEMENT
All prospective dancers must pass a private audition or be recommended by the team by a MusicWorks faculty member. To audition for the Competition Teams, dancers must meet the minimum age requirement. Private auditions can be scheduled for late spring or early fall.

If you feel you may not be ready for the competition team, we encourage you to speak with the studio director about designing a personal accelerated program to help prepare you for the Competition Team.
Interested in teaching for us? We're always on the lookout for passionate, energetic and experienced teachers to join our rock star faculty. If you're interested in teaching please email us your resume detailing your experience. We'd also love to hear from you in 250 words or less, why you'd like to join our inspiring team of teachers. We look forward to hearing from you!
Please email your resume to lynnemeyer@charter.net