About MusicWorks Studio of Performing Arts
Our Faculty | Our Facility | Contact Us & Map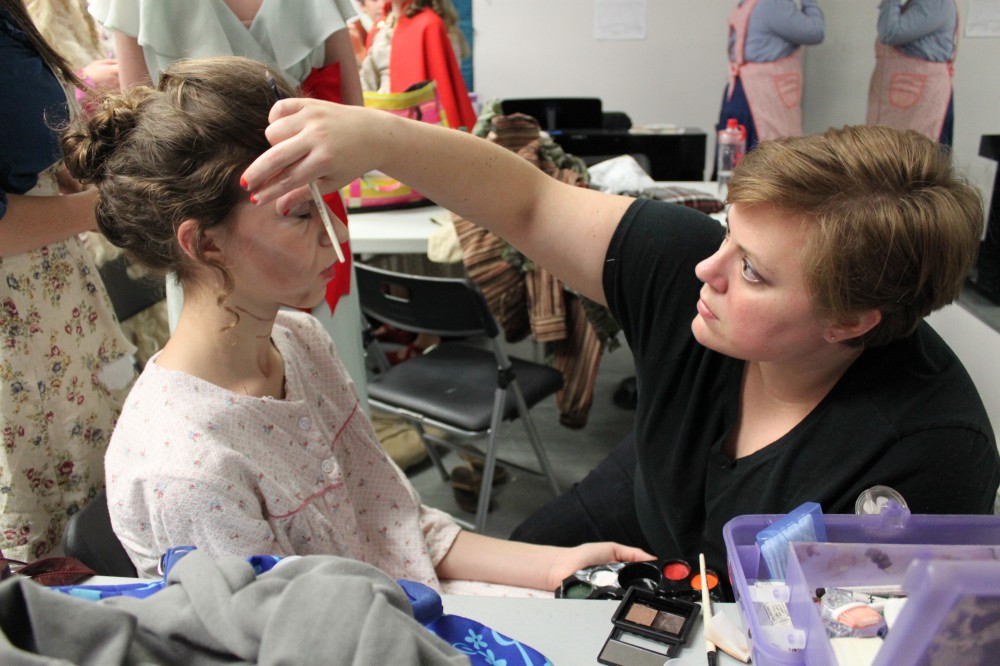 Our Faculty
Lynne Wells-Meyer
Studio Owner & Instructor of Musical Theater, Voice, Harp, Tap & Jazz

Lynne Wells-Meyer's love for the performing arts began early in life, starting with dance instruction in tap, ballet, and acrobatics at age 5. She also received formal training on piano for 12 years, flute for 6 years, and classical voice for 8 years. At the age of 9, she began pedal harp studies with retired concert harpist, Elsa Jennings of NYC, and the late Linda Booth of Charlotte. She began performing for weddings and special events by age 14, and at age 17, she made her symphonic debut with the Asheville Symphony Orchestra. Upon graduating from high school, she attended Appalachian State University where she studied harp with nationally acclaimed harpist Jacqueline Bartlett. She received a Bachelor of Arts Degree in Vocal Music Performance from Western Carolina University and was awarded a full scholarship for graduate music studies at the prestigious Cincinnati College-Conservatory of Music where she studied harp with Dr. Ulli Brinksmeier.

Her musical talent served her well in her pageant endeavors as she won the titles of Miss Blue Ridge Valley in 1987 and Miss Greater Asheville in 1992. Both of these titles qualified Lynne to compete in the Miss North Carolina Scholarship Pageant held in Raleigh. Mrs. Meyer has a wide range or professional performing experience. She was employed for five years by the Dollywood Theme Park and Music Mansion Theater in Pigeon Forge as a singer, dancer, and instrumentalist in several shows. She has also performed with numerous symphony orchestras including the Knoxville Symphony, the Knoxville Opera Company, the Oak Ridge Symphony, the Huntsville Alabama Symphony, and the Asheville Symphony. She has performed with recording legends Ray Charles, Lou Rawls, the late Victor Borge, Paige O'Hara ("Belle" in the animated children's film, Beauty and the Beast), the Four Tops and Electric Light Orchestra (ELO).

Other regional performances include the Biltmore House Candlelight Tours, the Singing Christmas Tree at Arden Presbyterian Church and numerous weddings, parties, theatrical shows, special church services and other occasions. She has been an instructor of harp at the University of Tennessee and Western Carolina University and has been teaching private harp students for 15 years and private voice students for 8 years. She is an active member of the American Harp Society and the National Association for Teachers of Singing (NATS).

In 2002, Lynne opened MusicWorks! Studio of Performing Arts. At the studio, and in her positions as arts instructor and active member of the Musical Theater Advisory Board at Western Carolina University, Lynne enjoys working with young people to develop their talents, and to instill confidence in them as performers and individuals. Lynne resides in Canton with her husband, Dan and their 11-year old son, Matthew. Lynne is a fan of the PRIDE OF THE MOUTAINS MARCHING BAND (POTM) at Western Carolina University where her oldest son is a freshman music major and a member of POTM! Go Cats!

Melanie Jones-Batchelor
Dance Educator: Preschool, Hip Hop, Tap, Jazz

Melanie began her dance training at a young age and studied tap, jazz, hip hop, ballet, and lyrical throughout her school years! She attended Western Carolina University where she was a member of the WCU Dance Team. Melanie is a registered dietician and is an adjunct professor at Western Carolina University. She is also the Health Management Programs Coordinator at Harris Regional Medical Center in Sylva. Melanie and her husband, Trey, have two young children; Macey and Thomas.

Sarah Jane Blackburn
Dance Educator: Lyrical, Hip Hop, Tap, Jazz

Sarah Jane began training at age of 5 at The Dancer's Pointe under the expert tutelage of Shelia Radford Sumpter and Marilyn Cloutier. She also studied at Center Stage Dance Studio in Asheville with Michele Lee and Elliot Bradley, as well as working with choreographers Dale Lamm and Jason Parsons. Sarah Jane attended UNC Chapel Hill where she was a member of the Carolina Dance Team (ranked #3 in the nation) for two years, then became choreographer and performer with the Carolina Style Jazz Company and Blank Canvas Dance. She graduated from UNC-CH in 2009 with a degree in Psychology and was excited to return to the mountains! In addition to teaching dance, Sarah Jane is also a member of the preschool staff at First Methodist Church in Waynesville. Ms. Sarah Jane and her husband, Matthew, are proud parents of "sweet Georgia"!

Julie Cloninger
Dance Educator: Ballet & Ballet en Pointe

Julie Cloninger loves ballet and is so thankful to be sharing the art of classical ballet with the students at MusicWorks. Julie was trained in the Russian style of Vaganova Ballet and performed with Mobile Ballet in Alabama and Gainesville Ballet in Georgia, but her beginnings were a small town dance studio in Fairhope, Alabama. She has been teaching ballet since she was in high school and has taught ballet to 3 year olds and 60 year olds. Her favorite ballet to perform is Giselle, but she dreams still of the Land of Sweets!

Marilyn Cloutier
Ballet Mistress and Consultant

Mrs. Cloutier was born in Michigan, raised in Kentucky, and at the early age of fourteen, joined a ballet company in New York. Her early training was with Mme. Casson of the Anna Pavlova Company. She was also a student of George Balanchine, Michel Fokine, Ted Shawn, and Luigi. She was a scholarship student at the School of American Ballet and attended classes instructed by Muriel Stuart, Pierre Vladimirov and Anatol Vilzak.

She brings to the artistic field an expertise which includes all phases of show business…actress, dancer, choreographer, and production coordinator. Mrs. Cloutier performed as an actressdancer in many night clubs, revues, Broadway musicals, and theaters across the United States, Canada, and Central America.

As a choreographer and producer, her long list of credits includes productions for the Tropicana Night Club in Las Vegas, the Carillon, Eden Roc, and Deauville Hotels on Miami Beach and special, intricate staging of underwater ballets for Weeki Wachee Springs and Sea World in San Diego. Mrs. Cloutier also produced extravagant productions for international firms, fund-raising gala events, fashion shows, beauty pageants, was instrumental in bringing lavish dance productions to the Orange Bowl Festival in Miami and assisted in the development of the inaugural ceremonies at Walt Disney World.

Mrs. Kathy Garris, Front Desk Manager

Interested in joining our faculty! We're always on the lookout for passionate, energetic and experienced teachers to join our rock star faculty. If you're interested in teaching please email us your resume detailing your experience. We'd also love to hear from you in 250 words or less, why you'd like to join our inspiring team of teachers. We look forward to hearing from you!

Please email your resume to lynnemeyer86@gmail.com
Our Facility
MusicWorks Studio of Performing Arts is centrally located just off of US Hwy 23/74 at 99 Kingdom Hall Drive in Clyde/Lake Junaluska area. Our beautiful renovated facility features three dance studios with sprung floors and Marley dance floor covering. Our largest studio features a 1200 square foot stage and seating for 125 audience members which allows for a variety of in-house productions and events. There is also a comfortable lobby, private music studios, two bathroom/dressing areas, and a dance wear boutique. Central heat and airconditioning is available throughout the building. Ample parking is available.

Healthy snacks and bottles of water are available for purchase in our lobby.

From our studio you will also have easy access to several local businesses including several grocery stores, medical facilities, and plenty of restaurants and fast-food establishments!
Contact Us
Lynne Meyer, Studio Owner & Artistic Director


MusicWorks! Studio of Performing Arts
Physical address: 99 Kingdom Hall Dr | Clyde, NC 28721
Mailing address: PO Box 599 | Clyde, NC 28721
Studio Phone: 565-0381